GLS welcomes the training year 2020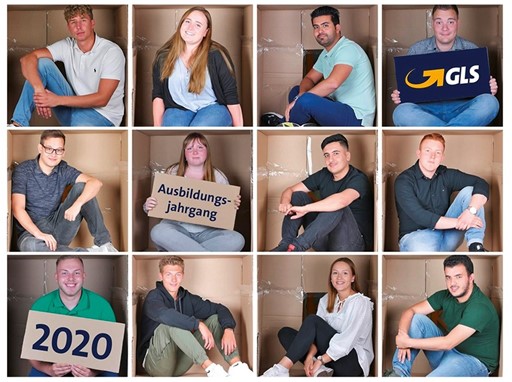 GLS trainees 2020
111 study and training places across Germany
Doubling the offer within four years
GLS career website with all information on training and dual studies 2021
Neuenstein, 4 August 2020: The parcel service provider welcomes its new trainees, dual students and annual interns in August and September.
This year, GLS Germany provides 111 training and dual study places. Training is offered in the following professions: CEP specialist, warehouse logistics specialist, IT specialist for system integration, specialist for freight forwarding and logistics services, office management, e-commerce, IT or courier, express and postal services. GLS recruits dual students either for the degree programme Applied Computer Science or Logistics Management.
Depending on the German federal state, the first-year students start their career at GLS on 1 August or 1 September. The welcoming and introduction of the trainees is designed to give them the best possible start in the company and their new working life. The introduction week takes place under consideration of appropriate hygiene and precautionary measures.
"We are proud that we were able to almost double the number of places within four years", says Dr. Karl Pfaff, Chairman of the Management Board of GLS Germany. "This shows that GLS is an attractive employer for junior staff and that parcel logistics is an exciting and diverse industry with a future - and that young people perceive it that way."
From August, GLS is already looking for the trainees for the coming year
On the GLS career website, the training offer for 2021 will be online from August. Those seeking training can now apply for a training or dual study place via gls-karriere.de/en/.
CONTACTS
GLS Press Office

STROOMER PR | Concept GmbH

Germany

00 49 (0) 40 - 85 31 33 - 0